Three months on from the launch of OnTheMarket (OTM) it has been claimed that the property portal is struggling to prove a hit with consumers, but estate agents listing properties on the website insist that they remain happy with OTM.
Citing the latest data from Hitwise, the Zoopla Property Group (ZPG) claim that OTM's website traffic has been in decline for the last few weeks, after peaking in mid-March, and that those agents that list their properties on the website are not receiving good value for money.
Lawrence Hall  (left) of ZPG commented, "At the end of the day, OTM is simply a marketing channel like any other and will need to ensure that its audience levels justify its fees. This is even more the case for OTM given that it has required its members to give up a huge audience. It is hard to see how agents can justify paying anything meaningful for marketing on OTM at these current traffic levels."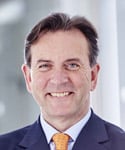 Ian Springett (right), Chief Executive of OnTheMarket.com, insisted that claims by ZPG that traffic to OTM is falling are "simply inaccurate both in terms of absolute numbers and trends".
"As flattering as it is to receive so much attention from Zoopla Property Group, we would like to correct their misinformation," he said.
"Far from declining throughout March, our traffic levels grew, with more than 1.5 million unique visitors coming to OnTheMarket.com and we have experienced a further uplift in April," Springett added.
ZPG, which has seen a fall in the number of estate agents advertising on its website due to competition from OTM, has issued a number of press releases in recent weeks questioning the volume of people who are actually visiting OTM, as part of a wider anti-OTM campaign. But ZPG's decision to adopt this marketing approach has surprised some agents.
William Wells (left), Residential Sales Director at Mullucks Wells, which is now using OTM and Rightmove to market properties online, but no longer Zoopla, commented, "We are surprised over the tactics employed by other sites which are contacting our clients directly as if they were their clients suggesting that our switch was going to disadvantage them. Zoopla has stated it doesn't think onthemarket.com is a threat to them – but they are talking the talk and their actions suggest otherwise when they have written to our clients. So we would presume they think the site will pose a significant threat in the long-term."
Well insisted that his agency's decision to drop Zoopla and list properties on OTM was the "right decision" and that the company "wouldn't want to reverse it".
He added, "We now have more control over promoting our client's properties because the site is agent led. The site is simple, without paid advertising cluttering it and no distractions for people viewing such as comparison data collection. We're pleased with the level of national marketing [by OTM]."
Another estate agency happy with their decision to switch to OTM, at the expense of Zoopla, is Barton Wyatt.
James Wyatt, a Partner at the company, believes that OTM is a long term project that needs time to mature.
He commented, "It seems that a lot of people expect instant results from OTM. That is not going to happen. Both Rightmove and Zoopla struggled in their early days – remember that?
"Barton Wyatt dropped Zoopla, because the leads we received were poor. In other parts of the country, agents report excellent leads from Zoopla – so this isn't a 'one size fits all' situation.
"I certainly wouldn't go backwards. We believe that OTM will be a success given time. In fact, many of us agents who are backing OTM are looking forward to the day when it will be the only property portal we use."