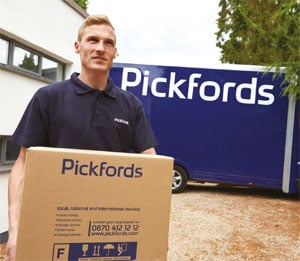 In an increasingly service-focused world, estate agents are finding that joining forces with key partners is vital in sustaining their commitment to unrivalled service to their customers. Introducer agreements with conveyancers are long-standing and well received, Pickfords believes this should be mirrored in the removals sector and it has established a landmark partnership programme for agents looking to grow their offering and increase their revenues.
"We have a professional approach to our partners; we put their customers and, in turn, our partners, first in everything we do. We truly believe that a better relationship with our partners leads to a mutually beneficial service for all," says Adam, "So many of the agents I speak to have tried in vain to locate a reliable, national, service to recommend to their customer. Unfortunately this has often failed and ultimately, there has been a reluctance to introduce a customer to a removals company due to a perceived lack of transparency and no fixed service level agreements in place"
Pickfords has been a household name for nearly 400 years and it enjoys the reputation to match. Now, the trusty Pickfords brand has embraced technology in numerous ways.
Pickfords has been a household name for nearly 400 years and has the reputation to match. In more recent times, the Pickfords brand has truly embraced technology in numerous ways. However, the company is most proud of its excellent reviews on Trust Pilot, through which Pickfords monitor their customers' satisfaction, as they continue to be the UK's Number One for home removals.
So how does the partnership work? "When we receive the agents' enquiry into our partnerships team in Manchester, your dedicated account manager will maintain contact with the customer until they are ready for a survey.
When a survey, either physical or video, is booked in, the enquiry is handed over to the local branch who will assign a move manager to look after the customer throughout their move. Once the move is completed, the partner receives their commission in the following month, along with a full report with break down of every enquiry from their account manager. We believe this level of sophistication and transparency is a first for the industry and we have already had a very good uptake."
Pickfords' dedicated partnership team is led by Partnership Manager Craig Wilson. The investment into the department has seen a significant shift in how the company handles its enquiries, with Adam explaining that every request sent through is nurtured throughout the journey, which enables Pickfords to keep the quality to the level expected.
For more information contact Adam Wilding directly at [email protected] or 07876833720.
Alternatively, contact our partnership team at [email protected]