OnTheMarket.com (OTM) claims to have attracted 10 million visits since launching three months ago.
The agent-owned portal, launched with a view to disrupting the portal business and breaking the 'duopoloy' held by Rightmove and Zoopla, says it has achieved 90 million page views since 26th January, supported by a very heavy advertising campaign on national TV, in the press and online.
In the first 100 days since it launched, OTM's TV advert has been aired more than 5,000 times and watched by 44.8 million people. Across print media, more than 100 press adverts have run and our online adverts have generated around 155 million impressions, while their pay-per-click campaign has delivered some 55 million more.
During April, OTM says it received 3.5 million visits with an average of 9.31 pages viewed and an average of 6.5 minutes spent on the site by each user. It says the traffic information was generated by Google Analytics.
The latest website traffic data claims from OTM contradict Zoopla Property Group, which has issued a number of press releases in recent weeks claiming that the volume of visitors to OTM has been in decline, and that agents listing their properties on the website are not receiving good value for money, as part of a wider anti-OTM campaign.
OTM has recruited more than 800 estate and letting agent offices this year alone and now has a membership of over 5,000 offices which consists of in excess of 2,500 firms, with over 27 per cent of its member offices opting to upload their new to market properties exclusively to OTM ahead of any other property portal.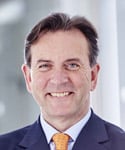 "We are confident in becoming the number two property portal by the end of January 2016 on our way to achieving our medium term objective of becoming the market leader," said Ian Springett (left), Chief Executive of OnTheMarket.com.
He added, "We are experiencing impressive levels of returning visitors as well as a high percentage of new ones, while consumers and agents tell us the website is clean and fresh and they are impressed by its lightning speed and by its responsive design (unique among the major portals). This allows it to adapt to the screen size of whatever device is being used to view it."
Board member, Paul Masters (right), Group Marketing and Operations Director at Kinleigh Folkard & Hayward, believes that OTM is "having a great impact on the industry" and it is "moving into second place rapidly", while William Wells of Mullucks Wells insisted that his agency's decision to drop Zoopla and list properties on OTM was the "right decision" and that the company "wouldn't want to reverse it."