It was billed as the property website that would finally break the so-called duopoly between Rightmove and Zoopla, but OnTheMarket (OTM) is turning out to be a bit a damp squib, according to Alex Chesterman, Head of Zoopla Property Group (ZPG).
Zoopla said that the number of agents on its books has increased in recent months as it posted better than expected full-year earnings.
ZPG has announced a £25.4 million profit in the 12 months to September despite greater market competition from OTM which has increased its market share since launching in January, primarily at the expense of Zoopla.
Zoopla had 12,702 agency partners at the end of September, compared to 16,373 a year earlier, largely as a consequence of OTM's 'one other portal' rule requiring their member agents to stop advertising on either Rightmove or Zoopla with a view to winning greater market share.
The rule hit Zoopla significantly harder than Rightmove, with client numbers falling sharply. But Zoopla report that they are now winning some of those customers back, with Chesterman insisting that OTM's "threat is diminishing".
ZPG's growth in revenue for the year ending 30th September has been supported by the group's acquisition of home services comparison platform uSwitch in April.
Chesterman (left) said, "We have made great progress towards our vision of becoming the consumer champion at the heart of the home with the acquisition of uSwitch, the leading home services comparison platform in the UK."
"Traffic to our property platform remained strong with high levels of user engagement, and we recently passed the significant milestone of over seven million downloads of our property apps."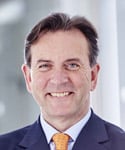 Despite Chesterman's stance, Ian Springett (right), Chief Executive of OTM, insisted last week that OTM will be entering 2016 "in a strong position", supported by heavyweight national marketing campaign.
"We believe that agent momentum will snowball and we will focus all our energy on continuing to build a sustainably low-cost alternative to Rightmove to serve both agents and consumers better," he said.
Springett pointed out that at the start of the year, Chesterman called OnTheMarket.com a "short-term event" but he now believes that the latest figures provided by OTM, which show that the website's traffic reached a record high of 5.7 million visits in October, show that his firm is growing.
OTM is now targeting 7,500 members as part of its efforts to replace Zoopla as the number two property portal after gaining the support of 6,000 UK estate and letting agent offices across the country.
The level of support consists of contracted members and agents who have signed a Letter of Intent to join OTM when total support reaches 7,500 offices.