As the second anniversary of OnTheMarket.com looms next week, the portal has announced that it is launching a "heavyweight investment" in marketing campaigns both on Google and TV during 2017.
This includes TV ad spots on up to 40 channels including More4, E4, Sky 1, Sky Atlantic, Sky Sports and Sky News and support for more traffic via Google search spend.
The company has also highlighted agent enthusiasm for its portal from several multi-branch agents across the UK including Peter Symons of Stags, Tim des Forges from the Knightsbridge branch of JLL and Simon Hill of northern Home Counties agent Michael Graham.
The three testimonials highlighted by OnTheMarket.com chief executive Ian Springett were all published in October and November last year.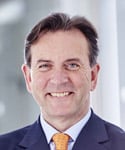 "We look forward to building on our successes and we remain as committed as ever to our long-term strategic objective of building the best portal for agents and consumers alike," says Springett (pictured).
The portal is highly secretive about how many agents have joined – or left – its service but a comparative study of its agent branch inventory reveals numbers are increasing compared to a year ago, despite reports of some agents leaving in recent months.
For example, in December 2015 it listed 126 letting agents in and around Birmingham while today that figure is 167, while in SW London the number of sales and letting agents has increased from 148 in December 2015 to 178 today. These are increase of 32% in Birmingham and 20% in London.