OnTheMarket (OTM) reports that the level of traffic and unique visitors to the portal hit a record high in June.
Based on Google Analytics data, the property website claims it recorded 4.4 million visits, with more than 2 million unique visitors.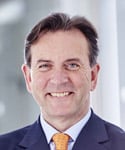 Ian Springett (left), Chief Executive of OTM, said, "We are continuing to see strong engagement from consumers in terms of pages viewed per visit and time on site and a high percentage of repeat visitors.
"This reflects both the quality and range of agents and properties listed with us and the usability of the portal.
"Our ongoing multi-million pound national TV, press and online advertising campaigns continue to work really hard at driving active property seekers to OTM."
With membership now at more than 5,000 offices and growing, and with around a quarter of member offices uploading their properties to OTM ahead of any other portal, Springett insists that OTM "is already a must-view website for the key audience of serious property-seekers".
Springett remains confident that OTM will replace Zoopla to become the number two portal by the end of January 2016 on their way to achieving their medium term objective of challenging the market leader, Rightmove. But for that to happen OTM will need to grow its audience significantly to get anywhere near the level of traffic being achieved by Zoopla and even more so when it comes to Rightmove.