The Zoopla Property Group (ZPG) has issued yet another press release questioning the number of people who are actually visiting the recently launched OnTheMarket (OTM) property portal.
OTM report that it has now attracted more than two million unique users to its website since it was launched in late January 2015, but figures from independent web audience monitoring firm comScore, as quoted by Zoopla, claims that total 'unique visitors' to OTM during February were 439,000, suggesting that the level of web traffic to the OTM was actually less than two million.
Hitwise also claim that OTM has got off to a slower start than is claimed, with its data revealing that the recently launched portal attracted less than 38,000 daily visits in February.
Lawrence Hall (left) of ZPG said, "OTM continues to make unsubstantiated and misleading claims about its traffic but its members are easily able to track their enquiries and performance and we urge them to do so. Despite recent attempts to rubbish independent data sources like Hitwise and comScore, these are widely recognised by advertisers worldwide as the most reliable indicators of audience. We believe that OTM will need to come clean to its members about its ability to realistically challenge and replace the exposure of the leading portals that it has asked them to give up."
Despite ZPG's accusation that OTM is "deliberately engaging in a campaign of misinformation' to its members and the market both about their own traffic figures and the volume of listings on competitive websites", Ian Springett, the CEO of OTM, stands by the figures being touted by his firm.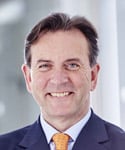 In a press statement, Ian Springett (right) said, "The figures being quoted by Zoopla Property Group with regard to traffic levels at OnTheMarket.com are wildly inaccurate. We stand by every figure we have previously stated and there is no question that less than six weeks after our launch, on March 6 and 7, we passed the mark of two million unique visitors to the website. We reiterate that we are confident in becoming the number two portal within a year."
OTM's CEO said that he was not surprised that Zoopla has embarked on an anti-OTM press campaign given the "heavy losses" it has suffered as a result of OTM's presence in the portals market.
He continued, "We have more than 4,800 contracted offices, around 90 per cent have chosen to leave Zoopla/PrimeLocation. In September, Zoopla was claiming on its website to have more than 1.1 million houses and flats for sale and to rent across the UK. Searching properties for sale and to rent in England, Wales and Scotland on Zoopla.co.uk shows that this number has reduced to just over 630,000 as at 27th February."
Meanwhile, the latest rankings from Apple's App Store show that the Zoopla property search app is one of the most popular mobile apps in the UK. It currently sits 5th highest ranked app in the free Lifestyle app category. What's more, the PrimeLocation app, owned by ZPG, also sits within the top 50 apps in the UK under the same category.
The ZPG's apps, which have achieved over five million downloads, have received largely positive customer feedback.
ZPG's Lawrence Hall commented, "Mobile is an essential part of any platform today and our strong market position ensures that our members receive the widest possible exposure across all devices. With both the Zoopla and PrimeLocation apps ranking so highly in the App Store and millions of downloads already, agents not visible on these apps are missing out on huge exposure."