OnTheMarket.com (OTM) has hit back at claims that its portal is struggling to establish any meaningful audience levels.
Just over three months since the launch of OTM, competitor portal, Zoopla, has claimed that OTM is failing to have a significant impact on the market by citing data from independent web monitoring firm Hitwise which shows that website traffic to OTM fell by 13.5 per cent in April.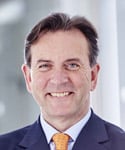 But Ian Springett (left), Chief Executive of OTM, has described Zoopla Property Group's (ZPG) claims as "inaccurate and speculative." He said, "It is a fact that less than 10 per cent of the agent members of OnTheMarket.com have chosen Zoopla as their other portal. And it is a fact that the Hitwise figure showing a reduction in traffic of 13.5 per cent in April is wrong."
OTM reports that it has attracted more than 10 million visits since launching over three months ago, and that traffic levels have remained buoyant in May to the extent that OTM has just experienced its highest ever number of weekly visits.
To date, OTM says that its users have viewed an average of 9.3 pages and spent an average of 6.5 minutes per visit.
What's more, with membership now at more than 5,000 offices and growing, with more than 27 per cent of member offices uploading their properties to OTM ahead of any other portal, OTM "is already a must-view website for the key audience of serious property-seekers," insisted Mr Springett.
He continued, "Members continue to tell us that leaving Zoopla has made no difference to their instruction-winning capability and that they are receiving at least as many good quality leads from their overall online presence as before. They report that the property-seekers they talk to are enjoying the clear and elegant search experience and the faster response times offered by OnTheMarket.com, while vendors and landlords appreciate the quality of presentation of their properties and the absence of spurious and unhelpful data and distracting advertising around them.
"OnTheMarket.com is owned and supported by thousands of estate and lettings agents via Agents' Mutual. In attacking it by the issue of misleading information, Zoopla has shown how little it understands the strategic motivation and commitment of those agents to creating a superior market-leading property search service.
"Zoopla should be in no doubt: OnTheMarket.com is here to stay and we remain confident in becoming the number two portal by the end of January 2016 on our way to achieving our medium term objective of challenging the market leader."
However, despite OTM's growing popularity among agents and recently released internal data showing that website visits are rising, ZPG claims that based on publicly available traffic data, membership rates, inventory levels and average lead conversion rates the average cost per lead for OTM members is currently estimated to be more than £50 compared to an average of less than £3 for ZPG members. If accurate, ZPG claims that this "likely makes OTM the most costly and least effective marketing channel in UK property portal history".
Lawrence Hall (right) of Zoopla Property Group said, "OTM has delivered the same audience in three months that ZPG averages in under a week but is charging similar advertising rates. Its members are paying more than 15 times the fair market value for their digital marketing currently which is simply not sustainable for most. Property portal fees must align with exposure and enquiries and no business can afford to be paying way over the odds for under performance for an extended period of time.
"OTM needs to grow its audience very substantially and quickly to get anywhere near their prediction of catching ZPG by the end of the year and the latest data from both Hitwise and OTM itself shows that this is simply not realistic. In the meantime, charging its members a more realistic rate of around £20 per month, as ZPG did when its traffic was at similar levels, would seem fairer whilst they try to build their audience. We have already welcomed back dozens of members who have already become disillusioned by the unrealistic promises made and fees they are being charged and we will continue to welcome back any other agents who are interested in ensuring they are getting the best value for their marketing spend."
Meanwhile, ZPG has launched a new marketing campaign for its Zoopla brand which is designed to communicate the scale of Zoopla's audience in a simple and effective way.
The new campaign, called 'Zoopla-Size Me', launched nationally last week and allows sellers and landlords to submit their property online via the Zoopla website for a chance to make their property the most seen in the UK.
From the properties submitted online, each month one will be chosen and featured across large-scale media and online advertising spaces, from national billboards to newspapers and to Facebook and Twitter.
Alex Chesterman, Founder & CEO of ZPG, said, "This campaign clearly shows consumers the power of Zoopla as a marketing platform. At the same time it will help our members win instructions as consumers understand the benefit of being listed on Zoopla and insist their agent markets their property on Zoopla or chooses an agent who can."