Rightmove delivered more leads than ever before on the back of record online traffic in January, the company has revealed.
More than 127 million people visited Rightmove last month, up almost 20 per cent compared to the corresponding month last year, and surpassing the previous record of 118 million set last August.
The sharp increase in visits helped to ensure that email and phone enquiries to agents and developers hit a new record of over 4.9 million, up 15 per cent year-on-year.
The latest data also confirms what many of us already know. We are a nation obsessed with property. Collectively people spent the equivalent of over 2,000 years browsing Rightmove in January, with the number of page views for the month hitting a new record of 1.7 billion.
The most popular places people looked for a new home after London was Bristol, Cambridge and Milton Keynes.
Miles Shipside (left), Rightmove Director, said, "These January statistics should give both sales and lettings agents confidence that an active year with plenty of business opportunities lies ahead. While January is usually a very busy month for home-hunting, the scale of these records shows just how habitual Rightmove has become when people are starting their property search. As Rightmove is the only place where people can search over one million properties for sale and to rent, it's clear that buyers, renters, sellers and landlords are all using us to search the whole market.
"The busiest ever start to the year gives a very confident outlook for the coming months, with some of the surge possibly coming from investors looking to make last minute deals before the changes to stamp duty come in on 1st April, as well as first-time buyers looking to see if any of the schemes could help them get a foot on the property ladder."
Rightmove was not the only property portal to record a good month for traffic and leads.
OnTheMarket.com celebrated its first anniversary by reporting that the level of traffic to its website last month reached over 6million for the first time, with a record number of leads provided to agents.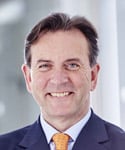 Ian Springett (right), Chief Executive of OnTheMarket.com, said, "January proved to be a fantastic month for OnTheMarket.com in many ways.
"The website marked its first birthday in style, smashing its previous record of monthly traffic of 5.7million visits – achieved in October.
"More property-seekers also used the newly updated apps than ever before.
"Many people said OnTheMarket.com would not reach its first birthday but instead it has proved that it is thriving and is continuing to grow in every way and we look forward to welcoming more and more agents throughout 2016."