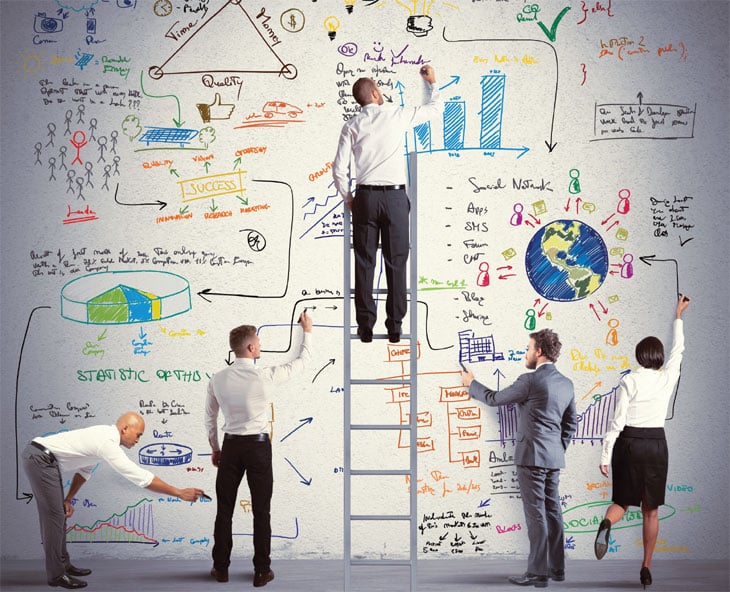 I
t's winter, a time for blue-sky thinking if you're one of the UK's many smaller agents who wants to grow their business.
This may include opening a new branch but instead why not buy a competitor and take a short cut; eliminating them from your patch, removing the risk of a cold start and increasing your chances of success.
Over the last ten years we have all seen the rapid growth of some estate and letting agency brands, largely through acquisition. Countrywide, Connells, LSL, Leaders and Romans have all been sweeping through the market, but smaller brands like KFH and Portico have also been quietly growing, building their market share.
SO ARE THEY STILL BUYING?
Adam Walker says that many of the corporates and regional chains are still buying, but most smaller firms, and individuals who would like to buy, are struggling to raise finance in today's market.
Marc Daniels at Addisons says that there is definitely less action from the large corporates – indeed, Countywide, once the hungriest acquisitor in the business, is quietly reining in the costs, merging brands and closing offices, which has worried investors.
The value of a business's 'goodwill' can be a thorny issue; it's common for sellers to overvalue their goodwill and buyers normally undervalue it. Peter Nicholls, Ideology Consulting.
Peter Nicholls at Ideology says, "The corporates were pro-active, particularly in the early part of 2016, as were the franchises – more so for the smaller single office firms. But buyers are being naturally cautious at present unless they can detect either quality or strategic value in the firms being offered to them."
WHY IS BUYING BETTER?
With less corporate competition in the buying arena, there may be greater opportunities for the independent to grow by acquisition – and more reasons to do so. "If you start a business and it fails you will lose your entire investment," says Adam. "If you buy a business you are buying a tradeable asset which can always be resold and this massively reduces the risk. Buying an established business is also much quicker than a cold start. A new sales business will not break even for six to twelve months or more, while a letting business might take two to three years to trade profitably."
A decade ago, that would have seemed reasonable but the world has speeded up and success is expected to come sooner, or lenders/investors will be getting anxious.
HOW CAN YOU JOIN THE PARTY?
It's not easy to breeze into a competitor and make an acquisition offer, so how do you find an estate agency business to buy?
Peter Nicholls says that there are many and various business transfer agents that buyers can locate on the web. "Some who, like us, specialise in a particular sector, and others who are much more general. As a statement of the obvious, I encourage all estate agents that are thinking of selling their businesses to approach a specialist (even if it is not ideology!), as by definition, a specialist in any sector is bound to have greater knowledge of that sector – which can also be of greater help to buyers too."
Adam Walker says that these days "Most of the larger businesses are sold by specialist brokers like me. However, smaller portfolios and businesses are more commonly sold by the owners using websites such as Owner Sellers and Daltons."
WHAT SHOULD YOU LOOK FOR?
Some years ago, I was quietly told about one well-known, multi-branch letting agency whose client account, far from being safely wrapped up in the bank was, "Floating on the Med, cunningly disguised as a 50 metre motor yacht." Unless the potential business buyer is a sailing enthusiast with scant care for the integrity of the business, that's something to avoid.
"Profit, profit, profit", says Marc Daniels, is what you're looking for – "and how does it fit within your criteria for buying? You should also consider the added value if the existing owner stays on," even if that's just for a year, to smooth the path to change.
"Residual income," says Peter Nicholls, "The most valuable element to any estate agency business is residual income, such as lettings and property management and/or block management, for example." There are two other key points. One is the value of a business's 'Goodwill' which can be a thorny issue between a buyer and a seller. It is commonplace for sellers to overvalue their goodwill and buyers to normally undervalue it – mostly the truth is somewhere in the middle.
The other is professionalism – nobody wants to be buying a business with a bad name, so when buying a business, you need to research their 'past' as thoroughly as possible, to understand the business and the manner in which it has been run.
This will also be indicated by the way a seller responds to scrutiny during the due diligence process. If they want to impress potential buyers, they will have everything in order with their accounts, staff records, clients lists etc. and have prepared their paperwork prior to selling.
Paul West at The Rosewater Group highlights another important sign to watch out for – a portfolio with an imbalance in its landlord client list. If a significant number of properties that are under the agency's full management portfolio are owned by just a few landlords that could be catastrophic if, in light of the business sale, just one of them removed their business from you.
Another warning sign is neglect. "It may sound strange", says Peter, "but is not uncommon for sellers to lose momentum in the lead up to selling a business, and/or look to run their business down hoping that a buyer won't notice – but strangely enough it is nearly always apparent."
Our experts' list of negatives to watch out for:
Poor presentation of the financial information
Too little letting income
Too much let-only income
Poor compliance procedures
Too recently established
Declining income year on year
Poor level of profitability
Unrealistic asking price
Any business that has been offered openly for sale
Poorly trained staff
Overly well paid staff
Lack of funding – especially, missing funds
Non-disclosure – skeletons in the closet
Neglect
WHY USE A SPECIALIST AGENCY?
Your own business model should answer this question for you. Adam Walker says, "People who sell their own houses very seldom get the best price and the same is true when it comes to selling a business. A good broker will get a far better price and just as importantly will ensure that the sale goes thorough first time as a very high proportion of business sales fall through often for reasons that were foreseeable and preventable."
People who sell their own homes seldom get the best price and the same is true when selling a business. A good broker will get a far better price. Adam Walker, Adam J Walker.
The Haversley Group is also significant player in the lettings business transfer market, and currently has 2,500 buyers wanting to purchase lettings businesses in practically every county in the UK.
They say that lettings agencies usually ell within weeks, so you need to have your funds in place before you even start looking.
For major corporates, that's not a problem but for the smaller independent, hoping to expand, they need to be well organised and ready to act when an opportunity comes along. One letting agent I spoke to though, said he had approached several independents to acquire them, or their portfolios, but had been beaten on price by the 'fat wallets of the corporates'. Unsurprising, perhaps, but another agency in Brighton said that they had won the battle with the corporate buyers because "many independents may want to retire, but they don't like the idea of their business being swallowed up by the big groups and disappearing forever."
CHANGING TIMES
Would developing a hybrid model be another way of building your business? It is interesting – and possibly key to your decision making on plans for growth – that we are seeing a change in attitude and action in the agency sector as rumbles continue about Brexit and its potential effects on the housing market. Those larger brands that were snapping up agencies may not be quite so active in that area, what they are doing is snapping up good staff – and they are being joined by the growing band of hybrid agencies who are driving expansion by hiring well trained 'traditional' estate agency staff with opportunities to own an area 'franchise' and be their own boss.
Hatched, one of the pioneers of the online estate agency, is planning further growth in 2017. Since it was acquired last year by Connells Group, it has more than doubled its team of local property consultants across the country and its head office staff.
Director, Adam Day says," This is an opportunity for entrepreneurial individuals to have true ownership over their 'patch' but on an employed basis, with a basic salary and in a framework of a well-established company, enjoying all the benefits it brings like excellent training and rewards."
CONTACTS