Despite a significant increase in web traffic, a growing number of estate agents are cancelling their subscriptions to Zoopla to join rival site OnTheMarket.com (OTM).
Shares in Zoopla Property Group (ZPG) dropped last week, after the firm reported that the number of estate agents listing their properties for sale and to let on the Zoopla website had dropped by 23 per cent over the past 12 months, largely due to the recent launch of OnTheMarket.com (OTM) which continues to have an adverse impact on its business.
OTM, solely owned by the agents that list on the website, with more than 5,000 estate agency offices now signed up, has had a dramatic early impact on the market with its 'one other portal' rule requiring their member agents to stop advertising on either Rightmove or Zoopla, with the vast majority of agents opting to drop Zoopla.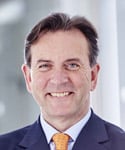 Ian Springett (left), Chief Executive of OTM, said, "Since our launch four months ago OnTheMarket.com has already taken almost one quarter of the estate and letting agent members from Zoopla Property Group. Less than 10 per cent of OnTheMarket.com's member firms are using Zoopla as their other portal."
"In addition, OnTheMarket.com has already overtaken Zoopla in many areas across the UK with its number of property listings, meanwhile new member agents joining OnTheMarket.com continue to rise week on week," he added.
But despite losing almost a quarter of its estate agency advertisers, Zoopla reported a 10 per cent rise in revenues, suggesting that many agents continue to remain loyal to Zoopla, thanks in part to the fact that web traffic to Zoopla has increased by 11 per cent to an average monthly rate of 44.2 million.
Lawrence Hall (right) of ZPG insists that the majority of agents who have remained with Zoopla and Rightmoveare in a "far stronger position" than those that have switched to OTM, "and are growing their market share as a result".
Analysis from ZPG claims that the average number of listings and new instructions per branch has been steadily climbing since the start of the year for agents who have remained with both Rightmove and ZPG, whilst the average number of listings per branch for agents who have joined (OTM) has been steadily falling.
"This analysis provides compelling evidence of the impact of OTM's 'one-other portal rule' on its members as many vendors and landlords clearly see the benefit of choosing an agent who provides the widest possible exposure for their home when entering the property market," said Hall.
He added, "It is no coincidence that we have already seen dozens of members return to ZPG having quit OTM due to the negative impact on their business and we welcome back any members who have realised that we are a key partner whose sole focus is on driving them more business."
But without more detail of this ZPG analysis, OTM's Springett insists that it is "hard to take it seriously."
He continued, "It seems simply to be another desperate set of unsubstantiated claims geared to stemming the flow of agents away from it as they join OnTheMarket.com. The claims are directly contrary to the consistent feedback that leaving Zoopla has made no difference to instruction-winning capability.
"The claims also seem to be at odds with announcements recently by Countrywide and LSL, both major shareholders in ZPG and with some 1,400 offices between them listed on Zoopla. As recently as 30th April it was reported that for first quarter 2015 compared with first quarter 2014, Countrywide experienced a 13 per cent fall in exchanges and LSL saw income from sales fall 15 per cent.
"Meanwhile, Spicerhaart Group, a major group supporter of OnTheMarket.com, has announced a surge in new instructions.
"Moreover, analysis published recently by Home.co.uk indicates that our member agents are selling the properties they are instructed on materially faster than those who remain non-members."