One of the UK's leading agent groups, South of England, London and Wales based Chancellors has signed up its 50 branches and three brands to five years with OnTheMarket.com.
But in an unusual move, Bracknell-based Chancellors has made its listing agreement with the portal conditional upon OnTheMarket successfully floating on the stock market.
Assuming that goes ahead, Chancellors Group has agreed to advertise all of its UK residential sales and lettings properties at OnTheMarket.com and promote it via its branch and digital advertising activities.
The agreement is a change of mind for Chancellors, which two years ago published a blog outlining how it did not back OnTheMarket and questioning the need for a 'third portal'.
The blog by Robert Scott-Lee, Group Managing Director at Chancellors (pictured), said in his blog: "How successful OnTheMarket.com will be in the long term remains to be seen, but it's all down to the volume of traffic it is able to achieve.
"If it does perform well, I hope to one day sign on the dotted line with them, but we will act in the best interests of our clients, and for now, we feel that is not with OnTheMarket.com."
OnTheMarket claims today's agreement, which comes hot on the heels of competitor Zoopla's full year results yesterday, strengthens the OnTheMarket proposition for potential investors ahead of the imminent Initial Public Offering (IPO) on AIM.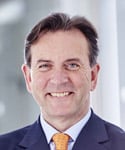 "Chancellors is undoubtedly one of the leading, most successful agent groups in the regions it operates in and its support will substantially strengthen our position in the market," says Ian Springett, Chief Executive of OnTheMarket (pictured, right).