OnTheMarket has challenged Rightmove not to increase its listings fees next year as the property market enters a challenging period following Brexit.
The formerly-mutual portal has announced that it is to lead by example and will freeze its fees for agents paying the full standard tariff.
This will apply to agents who entered into a five-year agreement when the portal launched on the London stock exchange in February last year.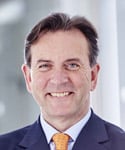 "It will be interesting to see whether or not Rightmove follows our lead on this or chooses to continue imposing double-digit percentage fee increases on the path to its stated objective of average fees per advertiser of £2,500 per month," says its CEO Ian Springett (pictured, left).
"Agents may remember how Rightmove behaved in the difficult years following the 2008 banking crash. Between 2009 and 2012, Rightmove increased its average fees per advertiser by 72%."
Pricing pledge
OnTheMarket says its 'pricing pledge' also means that, although it is contractually allowed to increase its fees by 5% a year, the portal has decided that agents who either opt to, or have continued to, observe the 'one other portal' rule can continue to enjoy a 10% discount during 2020.
This includes agents who decide to convert from the former Gold and Silver agreements and commit to a one, three or five-year contract.
"We recognise the challenges facing agents right now and the outlook for 2020 is a continuation of the uncertainty which is slowing the market," says Springett.
"Consistent with our commitment to sustainable fair pricing, we have decided to remove at least one element of uncertainty for the agents who have loyally backed us."