Property portal OnTheMarket says it now has 9,000 branches signed up to its service, a growth of over 60% since it launched on the stock market in February, giving it a market share just shy of 50%.
The company is on an extremely aggressive acquisition drive having spent considerable sums on a new sales team at its Aldershot office. It has added 500 agents since its previous update two and a half weeks ago.
This drive may be at a cost, though. As it revealed in its most recent annual report last week, many of these new agents have been signed up on freebie or discounted deals that the company hopes to monetise later on, a model Zoopla also employed during its early days.
Discount deals?
Increasing branch numbers may please investors and the City, but the strategy merely kicks the task of extracting full fees out of agents further down the line.
The sales drive has been run alongside a large advertising push by OTM last month including TV slots and a huge London roadside poster campaign.
This marketing effort is also driving more property hunters to register with OTM, which says the number of 'active alerts' set up on the portal by consumers now tops a million. And more registered users has helped the portal double its traffic over the past year to 42.2 million individual online sessions.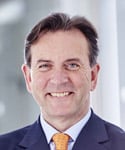 "We are delighted at the strength of momentum and the power of agent support behind our proposition as an agent-backed challenger portal," says Ian Springett, CEO of OTM (pictured).
"We continue to exceed our own expectations of the overall number of agents signing up, achieving this latest milestone of 9,000 contracted offices just three weeks after reaching 8,500 offices."