The parent company of OnTheMarket.com, Agents' Mutual, is to raise £50m by floating on the Alternative Investment Market (AIM) of the London Stock Exchange 30 months after the mutually-owned property portal launched.
The flotation will value OnTheMarket at between £200 million and £250 million, a sixth the size of nearest rival Zoopla.
Much of the money raised from the City will be spent on a huge TV, radio, print and digital advertising campaign to raise awareness among consumers and, no doubt, stop agents jumping ship back to Zoopla.
OnTheMarket's flotation will also require existing agents who list on the site to convert their membership into ordinary shares in the new company, and commit to a further five year agreement to list their properties on OnTheMarket.com.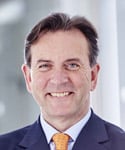 "This is the beginning of a very exicting new chapter in our development," says Agents Mutual Chief Executive Ian Springett (pictured, left).
"For consumer and agents alike we are committed to creating a genuine agent-controlled alternative challenger business and brand to the two leading incumbent portals."
A minority stake will be offered to investors as part of the Initial Public Offering (IPO) of new equity which will be used to give OnTheMarket the sort of marketing muscle and backing that its rival Zoopla and Rightmove enjoy.
OnTheMarket.com, which is the third largest property portal in the UK by visitor numbers, faces several obstacles in its bid to launch on AIM, during which it is being supported by brokerage Zeus Capital.
Member vote
The key one is Agents' Mutual must gain the support of its 2,700 member agents, many of whom may resist the allure of joining the City bandwagon and the transparency and regulatory burdens this brings.
But should Ian Springett be able to convince members a flotation is a good idea, the money will also be spent on expanding the portal's estate agent account management and sales teams and improving its technology offering.
Agents' Mutual will have to reorganised to become a public limited company and instead of being individual members will instead receive shares, the number of which will depend on how long they have listed with the portal, and the level of fees paid and investment made. A vote on this is expected on 6th September.