OnTheMarket's share price jumped by 5% yesterday as the company's stock continues its two-week-long fightback which has seen its shares increase by over 41% to £1.02p.
Since it went public on London's AIM market nearly a year ago the company's stock has enjoyed mixed fortunes, rising to £1.80 last summer but since then slowly falling away to 72p before starting its recent rally.
City investors have begun taking the property portal's claims seriously after OTM's attempts to gain market share have begun to bear fruit, and reassured by the ending of its legal wrangle with Gascoigne Halman over its previous 'one other portal' rule.
The residual non-competition issues relating to OTM's legal claim against the estate agency remain to be resolved.
Last week OTM revealed that it now has 12,500 listing branches which based on Local Data Company sector research suggests it has 70% of agents signed up.
Earlier this week it claimed to have 80% of Zoopla's listings and 60% of the whole market.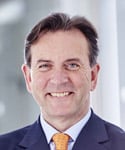 "We are currently running advertising campaigns across national television and radio which complement our sustained heavy investment in digital marketing," says CEO Ian Springett (left).
"We are confident in our ability to deliver a market-leading, agent-backed alternative to Rightmove and Zoopla, continuing to inject much-needed competition in the portals market, while delivering a superior digital user experience for property-seekers."
The company is also working hard to reward its staff during this tough growth phase; this morning the company lodged an additional 173,000 ordinary shares on AIM to add to its employee share option scheme.