CREDITON, DEVON
Rob Stoyle, Director
Helmores
Our office is situated in the Devon town of Crediton, an old market town surrounded by glorious rolling farmland. We cover all the towns and villages in mid Devon and are fortunate enough to have the spectacular hills of Dartmoor, Exmoor, and north/south coasts within a short drive. People are drawn to the area as they can surf at Croyde in the morning, and climb Haytor on Dartmoor in the afternoon. It's all a very laid back place, perfect for anyone looking to escape the rat race to a more relaxed way of life.
Many people want to be self-sufficient and here, a smallholding with a few acres can go for less than £500k. Second home buyers can get a chocolate box thatched cottage for under £200k, and an average four bedroomed detached house with double garage sits anywhere from £300,000 to £500,000.
Indeed we have relatively moderately priced properties with the average sale price from our office being about £350,000.
Crediton is also a popular place to live for commuters travelling into nearby Exeter. The city has had huge investment over the past few years, and is a truly beautiful. There are some large employers including the Met Office, John Lewis, Flybe, EDF Energy, Ikea (opening soon) which means there is no shortage of buyers who opt for Crediton as they prefer a quieter town life over city life.
Surprisingly November's market has been stronger in mid Devon than of recent months, and we've seen a real surge in new instructions and sales coming through. Year on year we're up on volumes of sales, with a number of properties being sold by us as the second agent after the first agent failed to deliver.
Viewing levels again are up compared to this time last year, but there's no doubt that the market is tougher, buyers seeming to be taking their time, viewing more properties and not jumping in at the first thing they see. As an agent we excel in a quieter market where skill, customer service and experience are all required to achieve good results.
I have a real focus on brilliant marketing – most instructions will have pro photography, 3D Matterport tours, and aerial drone photography if its suitable. I'm a qualified drone pilot plus we employ a professional photographer and a chartered designer, so everything is done in-house to a high level of quality.
I'm just getting into 'twilight' photography, which has so far produced some stunning Rightmove results. We're very active on social media and I believe in creating as much original content as possible – videos, photos, etc are so easy to do as we're surrounded by such beautiful countryside! Check us out on Facebook: @helmores
STATS: Average house price in the area: £230,000
Our average sale price: £340,000
Viewings per sale: 19 Agreed sales in November: 30
BRIGHTON & HOVE, EAST SUSSEX
Adam Farrell, Director
Saywer & Co
Brighton & Hove remains as popular as ever for various types of buyers of all age ranges and commuters. Buyers are still looking at our area as one of the best places to come to once the decision is made to move out of the capital.
Brighton and Hove continues to be referred to by many as 'London by Sea' and the wealth and diversity of culture that the city has to offer plays a big part in this. A vibrant arts scene is reflected in the famous Laines, while the city as a whole is increasingly becoming home to one of Europe's most thriving digital and IT clusters.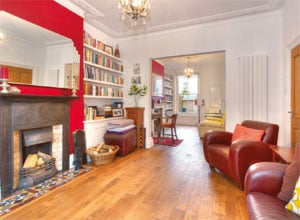 Even though we live in uncertain times the local property market is incredibly resilient and we continue to see a noticeable increase in prices over the last year.
Things such as the low cost of borrowing, motivated buyers and some of the best schools in the country combined with low amounts of stock, situated at an easy and commutable distance to London, and being a trendy yet traditional seaside location, are all key factors that keep the property market in Brighton and Hove a vibrant one.
The changes in Stamp Duty have had an impact on the amount of investors but on the other hand we have seen an increase in the proportion of First Time Buyers.
At Sawyer & Co we specialise in sales, lettings, land and new homes and block management, so our wide range of services allows us to provide professional advice on a wide range of property related issues. When it comes to property we are many Brightonians' 'friend in the business'.
The diverse culture and history of Brighton and Hove means that we have a wealth of different styles of home to choose from. It doesn't matter whether you love elegant period features, contemporary white rendered new builds or classic SPAN apartments – we've got it all!
STATS: Since Jan 2017 we've achieved: Asking prices: 98.44%
Recommendations on AllAgents: 99%
Tenants paying on time: 98.5%
NORTHUMBERLAND
Andrew Coulson FNAEA, Director
Andrew Coulson
We are increasingly aware that trying to predict the local property market is more and more difficult. The traditional peaks and troughs of seasonal changes and bank holidays seem to have virtually disappeared and the supply and demand scenario seems to be a lot more constant and consistent throughout the entire year. The property market in 2017 in our experience has been very similar to that of 2016. Property prices in this area have not dropped but neither have they risen.
We have experienced times throughout the year where we normally would expect more activity and haven't experienced it, but the opposite has happened and more recently, when we sometimes expect the property market to slow as we head towards the festive season, we have actually experienced a marked increase with both listings and sales up on what we expected.
About 60 per cent of the sales achieved are to people who are just moving regionally, the remainder being from across the United Kingdom and even a few from overseas. We specialise in residential sales and in the main deal with valuations values from around £100,000 up to about £1,000,000. The majority of sales recently in the Tyne Valley tend to be from £200,000 to £500,000.
Typically these properties have the greatest demand and sell the fastest. Sales outside of this band are taking longer. We are currently advising clients that, contrary to popular belief and what other estate agents may say about marketing leading up to Christmas and New Year and indeed winter, we are saying the opposite – we'd all like to think that looking at a house in winter means that we are walking up to the front door through deep and crisp white snow with the sun shining and pretty lights adorning the entranceway.
In reality of course it tends to mean, particularly the north east of England, that you are looking at, wet and miserable weather. The old adage that if you see a property in its worst situation then you could only like it even more when the sun is shining! This is another good reason for marketing properties over winter.
STATS: Average sale: £266,750 Average rental pcm: £700
Average commission: 1% Average viewings per month: 100%