Despite a sharp rise in the number of number of estate agents which have cancelled their subscriptions to Zoopla over the past year or so, with many of those agents opting to join rival site OnTheMarket.com (OTM), Zoopla has still seen a significant increase in website traffic, thanks largely to a high level of consumer brand awareness, new research shows.
A study, conducted by Harris Interactive on behalf of Zoopla Property Group, claims that more people have heard of Zoopla than any of the other UK property portals, including Rightmove.
"This research reinforces how the Zoopla brand remains front of mind with consumers when thinking of property search and research," said Lawrence Hall (left) of ZPG.
But despite achieving a high level of national consumer brand awareness than any other UK property portal, Zoopla has seen the volume of estate agents listing their properties for sale and to let on their website drop by around a quarter over the past 12 months, largely due to the launch of OTM earlier this year.
OTM, solely owned by the agents that list on the website, with more than 5,000 estate agency offices now signed up, has had a dramatic early impact on the market with its 'one other portal' rule requiring their member agents to stop advertising on either Rightmove or Zoopla, with the vast majority of agents opting to drop Zoopla.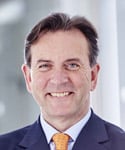 With more property listings and greater brand exposure,the level of traffic and unique visitors to the OTM portal hit a record high in June, with data from Google Analytics data showing that the property website recorded 4.4 million visits, with more than 2 million unique visitors, making it a "must-view website for the key audience of serious property-seekers," according to Ian Springett (right), Chief Executive of OTM.
Springett is confident that OTM will replace Zoopla to become the number two portal by the end of January 2016 on their way to achieving their medium term objective of challenging the market leader, Rightmove.
However, despite OTM's growing success, their level of website traffic and brand awareness at this early stage of their existence remains a fraction of what Zoopla – and Rightmove – are achieving.
The research by Harris Interactive, conducted between 29 June and 3rd July, and questioning thousands of consumers across the UK, reveals that Zoopla's national spontaneous brand awareness amongst all adults is at 38 per cent versus 34 per cent for Rightmove and just 2 per cent for OTM.
Hall added, "This is a difficult market in which to establish brand loyalty which we have done through constant innovation and differentiation. And our high levels of brand awareness and usage are helping us to deliver record levels of instruction leads for our members to take advantage of."