Zoopla Property Group (ZPG) has announced that it is to buy online price comparison site uSwitch in a deal worth up to £190 million.
ZPG, which also owns a number of other websites such as Prime Location and Smart New Homes, said the agreed deal, at £160 million plus a performance-based earn out of up to £30 million, believe that the deal will help it deliver a wider property service to people seeking the best deals online.
uSwitch, owned by Ulysses Enterprises Limited, enables consumers to find the best deals from utilities such as electricity and phone bills. It had revenues of £62.9 million and earnings of £16.2 million last year with 50.3 million online visits. It claims to have saved customers £112 million last year on energy bills alone.
ZPG said that the deal to acquire uSwitch will allow its members to benefit from increased engagement with home movers and greater insight into their property requirements along with enhanced exposure to the further differentiated ZPG audience.
ZPG is also developing new products that will create revenue opportunities for its members around home services switching.
Alex Chesterman (left), Founder & CEO of Zoopla Property Group said, "This is a transformational deal for our business and our members. With the plans we have to develop our services, consumers will have a single resource for all their property needs and this enhanced engagement with our users will create unique advantages for our members. This acquisition is a natural next step in the evolution of property portals, creating the ultimate property platform for our users and the most effective lead generation engine for our members."
Meanwhile, Zoopla have revealed further agent losses of around 950 branches to OnTheMarket.com (OTM), bringing the total agent losses closer to 4,000.
With support from agents for OTM continuing to grow, Ian Springett, Chief Executive of OTM, believes that it is only a matter of time until OTM replace Zoopla as the second largest property portal in the UK.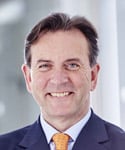 Mr Springett (right) recently said, "Our membership base is continuing to grow along with our momentum as agents realise that OTM is the best place to market their clients' properties with its slick and fast search and results pages which are free from intrusive third party advertising and unhelpful data. What's more, agents recognise the benefits of a mutual organisation which is working to reduce portal fees for its members over time.
"We are producing quality leads for estate and letting agents and we have also been told by many members that having removed their properties from their less effective portal, it has become obvious just how many leads were previously duplicated and leaving Zoopla has had no impact on their business."